by Rob Burke

I've just finished delivering the "Building Modular Applications using Silverlight and WPF" session at Microsoft Canada's TechDays 2009 event in Toronto.
What a difference a year makes! At last year's TechDays, my presentation was all: "Silverlight is new and awesome! Let's lap around some awesome Silverlight features!"
But this year, as Silverlight and WPF have gained some maturity, many of us are now working on more complex projects enabled by these frameworks.
So this year's theme, appropriately, was designing for change. It was about taming complexity in real-world Silverlight and WPF apps with patterns, conventions, examples, and a little glue code.
What we covered
After a brief primer on the MVVM pattern, the core of the presentation was a lap around Prism, a.k.a. the Composite Application Guidance for Silverlight and WPF released by Microsoft's Patterns and Practices group.
We looked at the structure provided by Prism's Shell and Bootstrapper, demystified Dependency Injection (over breakfast), and then explored the Region Manager, Modules, the Event Aggregator, and Commanding.
Taming Complexity and Designing for Change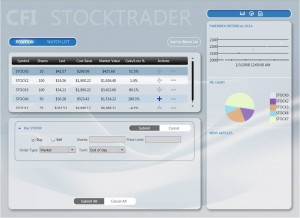 more here